With Mike Shanahan's move to announce Robert Griffin III as the week 1 starter for the Washington Redskins, the dynamic starting QB appears to be ready to go this season. Except, he won't be as dynamic as last year, and he won't be ripping apart defenses like he did last year. The reason is simple: his MO was lost this offseason with the ACL surgery and rehab.
I'll be honest, Mike Shanahan is making a bold move by starting Griffin week 1. This is a high-risk move by the historic head coach. However, Shanahan is smart, and I have an abundance amount of confidence that he will do the following to Griffin this season: neuter the run game.
Shanahan knows the priorities for the Redskins, and the guy way atop that list is RG III. Washington fans, brace yourselves for a season of minimal running, and a lot of pocket passing. However, RGIII is a guy that runs first, passes second. There is no denying that Griffin has a special talent when it comes to speed while running the football, and that Griffin can thread the needle on any pass needed.
But, the reason why Griffin and the whole pistol formation was so successful for the Redskins last season was because opposing teams always – and I mean always – were kept on their toes throughout the play. The defensive end and outside linebacker on the play had to make sure RG III wouldn't break out for one of his exciting 60-yard touchdown runs. Meaning: RG III was so explosive and unpredictable last season because he could run.
Right about now, you're probably saying to yourself, "Ok, what has been said these first four paragraphs that I didn't know??" Here's where Redskins fans need to brace themselves, and everyone with the 'Skins on their schedule this season can take a sigh of relief.
I wouldn't be going on a limb in saying that last season, there was around a 50-50 chance on pistol plays for Griffin to run with the ball himself or hand it off to Morris, causing defenses to make a split-second decision (we conveniently forget Morris's 1,600+ yards and his 13 touchdowns last season – as a rookie!!). With the incipient call for Griffin to be more cautious running with it himself, defenses now know there is about a 70-30, 60-40 chance Griffin hands it off to Morris – or any other backfield player. Trust me on this one: Griffin won't be as dangerous running-wise with a surgically repaired knee.
(My fantasy advice this year? Get your hands on Alfred Morris, because he'll likely be the recipient of 85%-90% of the Redskins carries this season. And thus endeth my one fantasy paragraph.)
Bottom-line: Griffin won't be as good as he was last year. The reason he was so hard to beat last year was because he could run on any down. During the offseason, that wild card factor was heavily diminished. He no longer will be the unpredictable threat out of the backfield, because he will lose a lot of his running ability.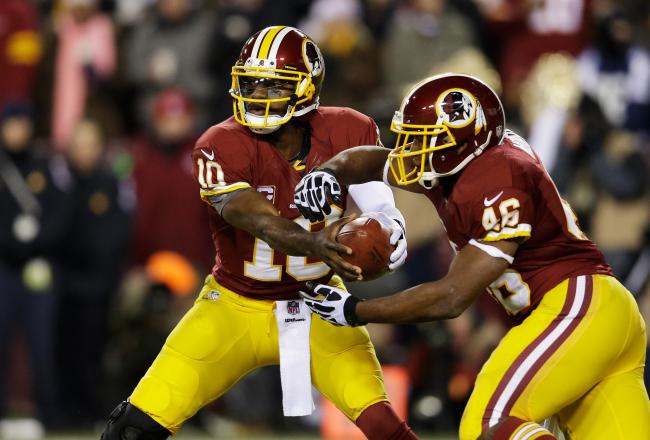 Will Griffin still be a top-10 NFL quarterback? Definitely. But he won't even touch what he accomplished last year, in my opinion, because you can't take away such an integral part of somebody's game (the run game, in RG III's case) and expect that player to put up dazzling numbers. It just won't happen.